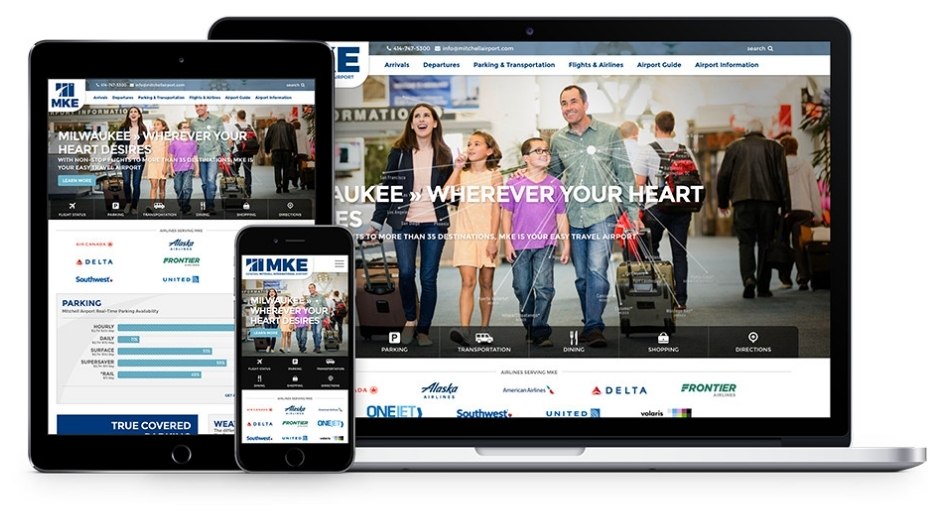 Milwaukee Mitchell International Airport
Mitchell International Airport is a civil-military airport south of downtown Milwaukee, Wisconsin, United States.
The airport also hosts the General Mitchell Air National Guard Base. Home to the 128th Air Refueling Wing (128 ARW), an Air Mobility Command (AMC)-gained Wisconsin Air National Guard unit. The wing performs both Federal and State missions. Wikipedia
Challenge
In the early days of website design, the only real way to create websites was through the power of the <tables>. 1998, Trivera started the first Mitchell Airport website; back in those days, all they needed was a website for a simple online presence. As digital marketing evolved, Mitchell's needs grew into a need for email marketing, to be the very first airport website in the country to contain real-time flight arrival/departure information, and introduced an online real-time parking lot ability.
Ongoing website maintenance and upgrading starting with Concrete CMS 5.4. to Current Version 8
Create ADA standards and training for future content entry.
Building self-service pages to improve customer satisfaction.
Simplify website management and content updates.
Integrate with other systems; for parking and real-time data, meet security, and meet hosting performance needs.
Trivera continued promoting the airport and all its features they implemented through a strategic Social Media initiative.