Wow, what a great time at CascadiaPHP! I want to personally thank everyone from the community who managed to come out to help make the conference double as our first concrete5-con!
We had community members from across the US and all around the world including from: England, the Netherlands, Morocco, Italy, Japan, Bangladesh, and Scotland. There were familiar names, but also new faces, and they blew us away with things we had no idea were even happening with concrete5.
The concrete5-con kicked off with a welcoming party for community members on Thursday night featuring drinks, snacks, drinks, conversations, and more drinks. Even the infamous Portland showers couldn't put a damper on things as we moved the party indoors and continued on late into the night.
CascadiaPHP itself featured lots of interesting talks from loads of experts on PHP and managing web applications. Some core concrete5 developers also presented: Andrew had a great talk on how to lead an open source project, and Korvin, Franz, and Andrew led a workshop on Web DevOps.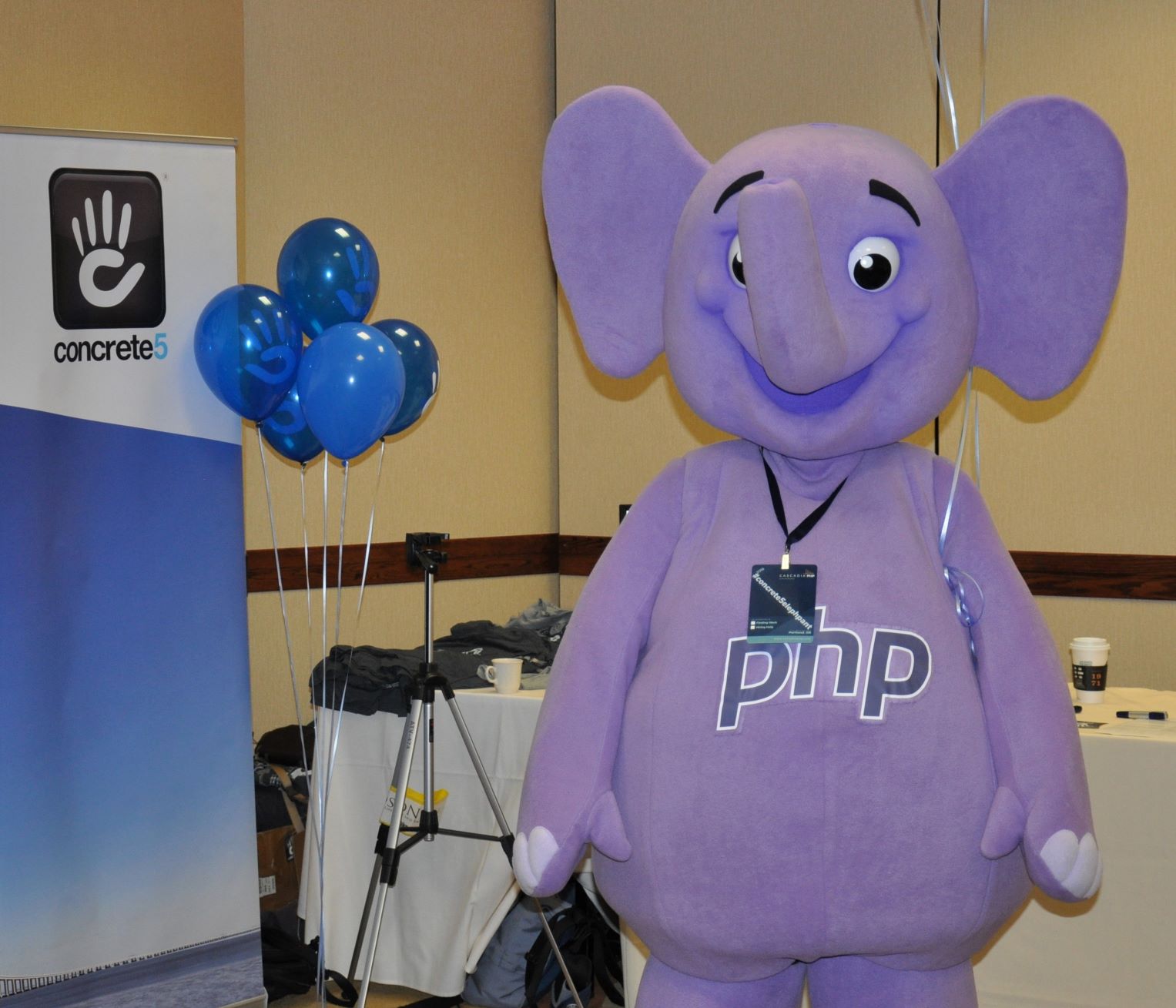 During lunch on Saturday, a surprise guest showed up: #concrete5elephpant. Everyone loved taking pictures and were surprised at how friendly an elephpant can be! They were a bit shy at first because this was their first appearance at a PHP conference, but they are eager to attend more. So, if you'd like the #concrete5elephpant to appear at your event, have no fear - we're working on a way to make that happen.
To round out the event, the concrete5 show and tell session celebrated all the things we love about concrete5. We started with a quick "this is edit mode" from Wayne Stewart, followed by a Magic-Tabs edit from JohnTheFish. Ramon Leenders then showed everyone Block Developer to give a sense of how flexible the platform can be. Amazingly the next presenter, John Campbell, showed us a knowledge management system that brought both Magic-Tabs and Block Developer together into a real business solution. ("Look, we can even nest John's Tabs!") We also saw a subscription model site from Glyn Jenkins and an powerful speed analyzer from a3020. Finally, Derek Cameron from concrete5 Japan demoed a digital asset management system with deep integration to Amazon's AI tools. All that within just 55 minutes!
It was all pretty inspiring. We know there are a lot of solutions out there for CMS, from easy-to-use web builders and blogs to super powerful platforms and frameworks. It's exciting that concrete5 can smoothly take you organically from one end of the spectrum to the other. For people who hadn't seen concrete5 before, the show and tell was pretty impressive, and I know I felt very proud of everyone.
After happy hour, the finale of concrete5-con was to pile the community members on an authentic English double decker bus for a full night of Portland adventure. We stopped at one of our famous food cart pods to grab some grub before adventuring down to Oregon City to show off the offices. Everyone stocked up on swag and enjoyed some chit chat about work culture and processes before we headed back up to the hotel. Festivities continued on for quite some time....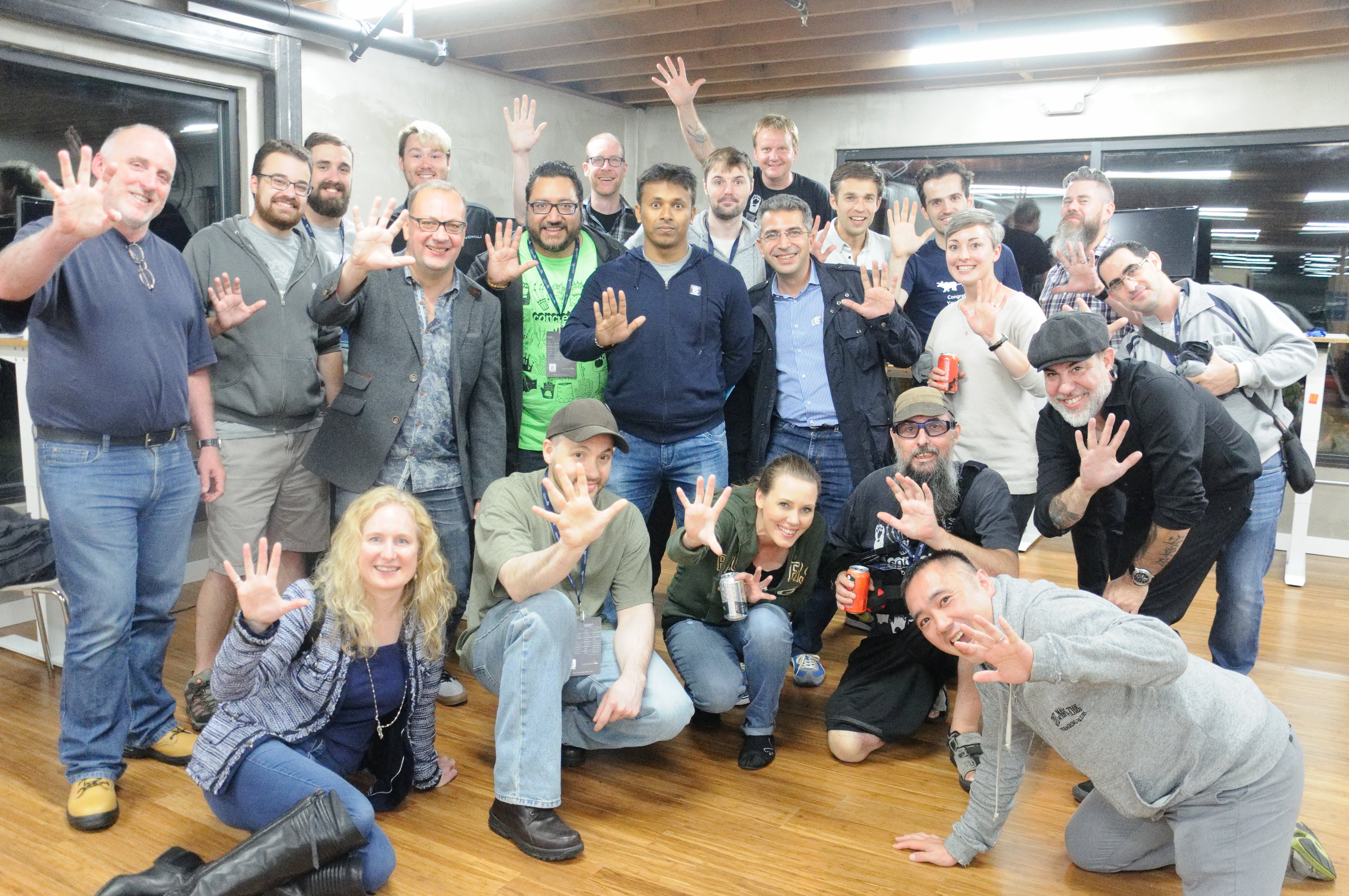 It wasn't all just socializing and celebrations. A lot of discussion and brainstorming generated some strong new ideas to help improve concrete5 in the future. Here are just two of the themes which emerged:
First, it's not that our documentation is bad; it's that there's nowhere near enough of it. It's about communication and ensuring that formats are available to match everyone's learning styles. We need videos, case studies, better in-line comments, how-to recipes, blog posts, implementation guides, you name it. If it might help someone understand the breadth of power that's already available under the hood with concrete5, it's worth doing. Documentation isn't a necessary evil; it's basic communication and marketing. People can't use what they don't understand and don't know about. We need to do much better at sharing information.
Second, software as a service (SaaS). The marketplace has been a central part of what concrete5 is for a long time, and right now it's not in balance. The barrier of entry is too high and the ongoing rewards are too low. We need to rethink what's happening there in systemic ways to both deliver what marketplace developers need to make it worth their while, but also what customers need to get real value from what concrete5 and its ecosystem can provide. It's not just a matter of adding a subscription model to the existing marketplace. We need to think bigger. We need to deliver the flexible solutions concrete5 is capable of, with the dependability of larger commercial SaaS vendors. To pull this off, we need to think of that last S in SaaS. It's not typically 'Subscription', but rather it is 'Service.' If we can rethink the partner program, marketplace, community member search, and hosting UX for concrete5, we will see huge success as we deliver a level of service together that no one company can match on their own.
It was an amazing weekend and we are so happy for those who could make it. We hope that we can keep the conversation going and turn these ideas and energy into measurable improvements over the coming months and years. We are also already looking forward to the next concrete5-con, so get ready for it!
---
Special thanks to Katz for providing so much media support!