Imagine an industry leader in aerospace and automotive testing, enhancing safety and innovation. Calspan, after embracing Concrete CMS, revolutionized their digital presence, which led to improved security, better search rankings, and a more intuitive website management system that propelled their market presence and productivity.
Situation
Before the transformation, Calspan's website was built on WordPress, fraught with outdated plugins and security vulnerabilities. The IT department faced constant battles with incompatible updates, leading to site crashes and security risks, which hampered their online reliability and growth potential.
Impact
The outdated website system was not just a technical headache; it was a commercial blockade. In the high-stakes fields of automotive and aerospace testing, where precision and trust are paramount, the website's shortcomings translated to lost opportunities and a tarnished reputation in digital spaces.
Resolution
Calspan's pivot to Concrete CMS marked the beginning of a digital renaissance. They built a robust, secure website that all team members could easily update, regardless of their technical expertise. The transition resulted in a dynamic online presence, showcasing their commitment to innovation and safety. SEO and site health improved dramatically, and the new system seamlessly integrated with CRM tools, generating high-quality leads and contributing to significant revenue growth.
Success
Today, Calspan stands as a testament to technological adaptation, with a strong digital footprint matching their industry-leading services. Their website is not only a portal to their cutting-edge testing capabilities but a beacon of operational excellence and a hub for continued business success.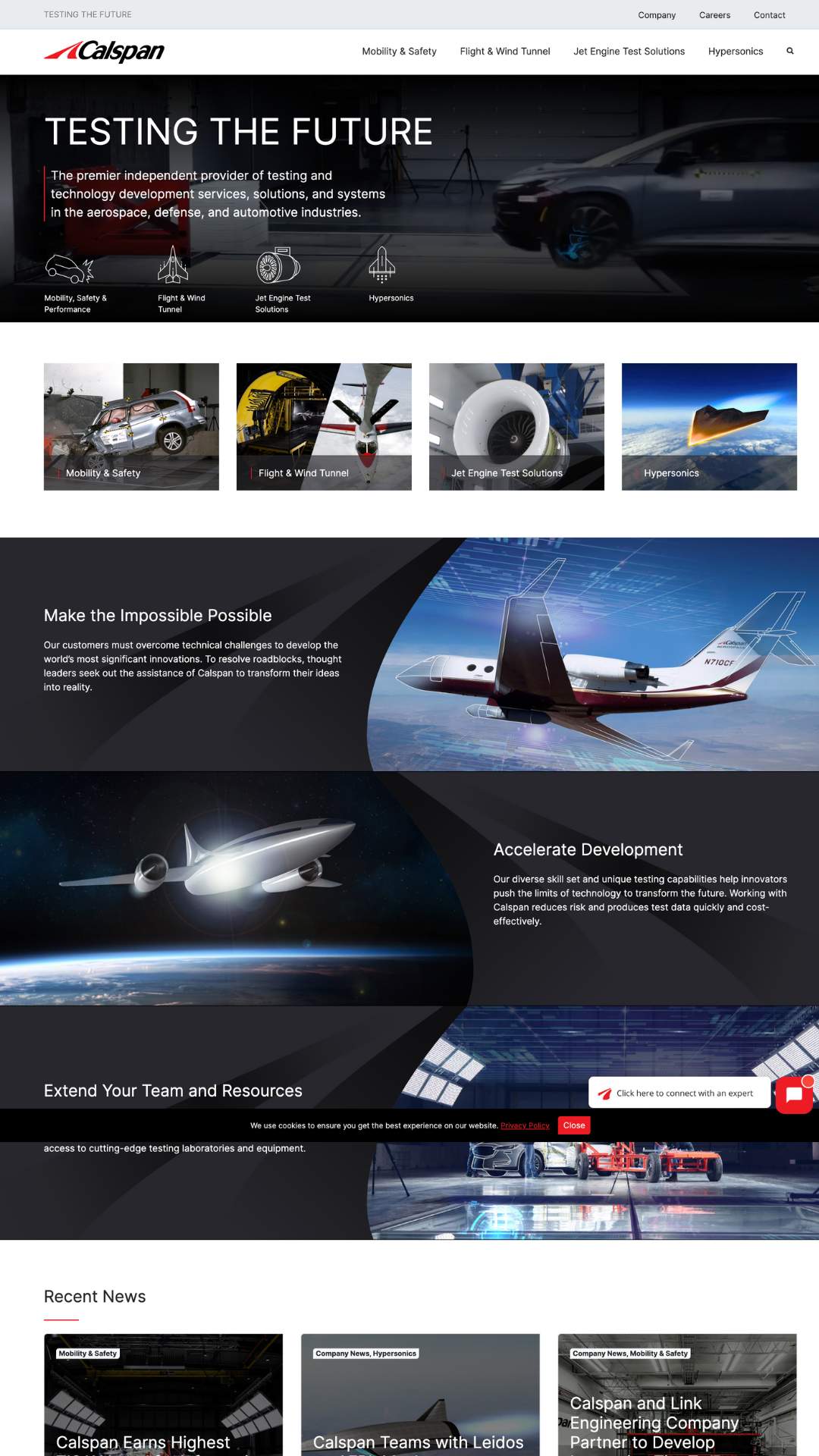 About Calspan
For more than 70 years, Calspan has been supporting initiatives that drive domestic and global innovation. They partner with global innovators in many industries, including aerospace, automotive, commercial transportation and motorsports. They're a world-class independent engineering services and testing company that proudly provides its customers with knowledgeable staff, unrivaled processes, unsurpassed quality, proven facilities and reliable equipment.
As an independent engineering, test, evaluation and research service company, Calspan is recognized and routinely called to execute challenging projects to transform the impossible into the achievable. Their success results from the "can-do" attitude and methodical approach of our talented, multi-disciplined engineers and technicians, coupled with the unique assets at their disposal. In addition, their high ethical standards and values-driven culture are two more reasons why Calspan is consistently requested to support industry-leading innovators across the globe.
Learn More
You need a CMS that saves you time.
Schedule a demo and tell us a bit about your project and we'll help you decide if Concrete CMS should be on your shortlist.