Situation
Brokers Alliance, had a limited online presence, which hindered their ability to effectively capture agent information. Their website was built with flat HTML files and lacked interactivity.
Impact
They were receiving a lot of phone calls from agents to register and track down information. This was leading to inefficiencies and potentially turning away potential agents who were looking for a more streamlined experience.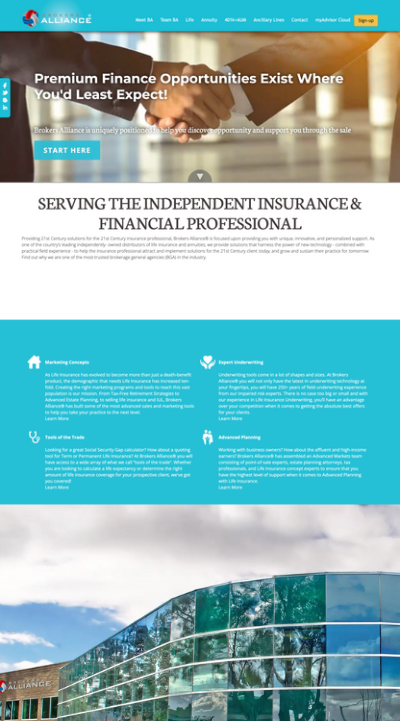 Resolution
Streamlined Registration Process: The new Concrete CMS implemented by Pixo streamlined the registration process for agents, making it happen instantly online with near-instant approvals. This significantly reduced the time and effort needed for Brokers Alliance's staff to manage the registration process manually.
Enhanced Interactivity: The My Advisor Cloud, a password-protected section of the website built with Concrete, provided agents with their own customizable dashboard, including information on sales, applications, quoting, and other tools controlled by Brokers Alliance. This enhanced interactivity made it easier for agents to interact with the organization, leading to increased engagement and satisfaction.
Improved Analytics: Analytics implemented by Pixo allowed Brokers Alliance to gain insight into how agents were using the site, allowing them to adjust tools and programs accordingly. This resulted in better decision-making and improved results.
Recognition as a Technology Leader: The new CMS and interactive features won Brokers Alliance awards and recognition as a technology leader in their industry. This helped them stand out from their competitors and attract more agents to their organization.
Internal Resource Management: The new CMS allowed Brokers Alliance to leverage internal resources to maintain parts of the website, saving costs and allowing for quick updates based on business needs. This resulted in increased efficiency and reduced expenses for the organization.
Overall, the positive results of the project allowed Brokers Alliance to modernize their online presence, capture valuable agent information online, and provide a more interactive and engaging experience for their agents. This resulted in improved efficiency, increased engagement and satisfaction, and recognition as a technology leader in their industry.