The ITV brand is a global powerhouse and as a result, the ITV Media (ITV's commercial advertising arm) site was attracting the wrong audience.
Visitors to the site were landing there expecting to watch programs via the ITV Hub, leading to a high bounce rate and a confusing customer experience. Rawnet had worked with the team at ITV Media for a number of years, making them the ideal partner to help them overcome their challenges and drive the brand forward.
Objectives
Improve the experience for ITV Media customers & reduce frustrations for people looking for the ITV Hub

Increase the quantity and improve the quality of leads for the sales team

Overhaul creative to bring up to date with a refreshed brand

Reduce irrelevant traffic and inquiries

Drive efficiencies for internal teams; reducing the time taken responding to poor quality inquiries & save time updating content on site.
Digital Strategy
Rawnet started with their strategy team, who embedded themselves into the ITV Media business to gain a deep understanding of their core challenges through a series of workshops, interviews & surveys. The goal was to define a plan of recommended digital changes to overcome ITV Media's challenges, assist continued commercial growth and take full advantage of future opportunities in the market.
From that, they discovered that one of ITV Media's business KPIs was to expand the client portfolio via SMEs and reduce the reliance on securing budgets from the 'big brands'.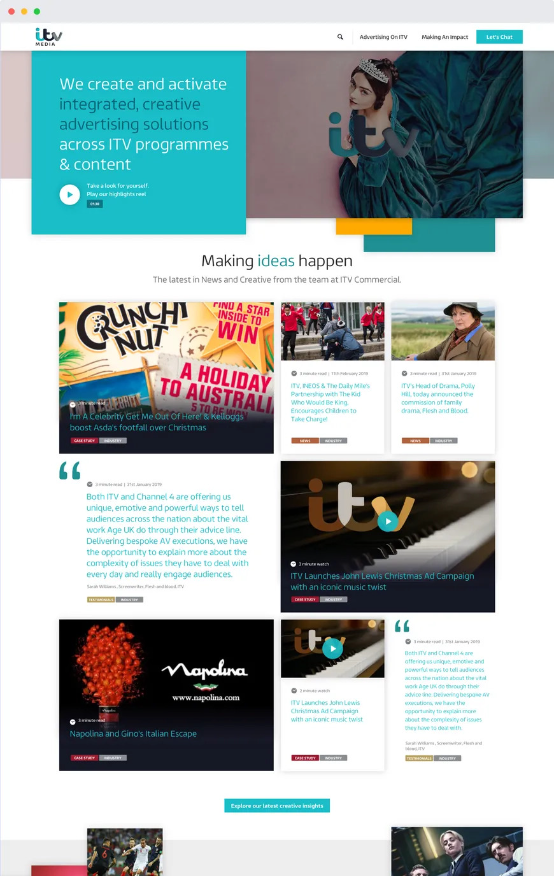 However, SME target customers looking on the ITV Media website were faced with an offering that was too daunting. It didn't look affordable or accessible, and was a barrier to conversion for mid-sized brands.
It became clear that refinements to the ITV Media proposition were necessary in order to drive the brand forward, both in terms of attracting a wider portfolio of clients & reducing frustration for visitors looking for the ITV Hub.

Rawnet worked with ITV Media to develop a really clear value proposition, communicating their service offerings in a manner that resonated with their target audience.
ITV Media's New Proposition
The structure of the site was optimized so that the right content was seen in the right place. They removed their catalog of programs from the site, as that's what itv.com is for, and instead used specific programs as case studies to showcase the amazing advertising successes ITV Media's customers have had. This helped to reduce confusion, improve the customer experience, and drive better quality leads.
Cost Savings & Efficiency
The site is now hosted on a flexible AWS solution, which scales based on demand. This means any cost saving can be passed onto ITV Media. This architecture means minimal intervention is needed from our DevOps team - all round it's more efficient.
About Rawnet
Rawnet's investigative process alongside their creativity and technical expertise make them a valuable partner, not just another digital supplier. They are solely dedicated to creating long term positive impact for their clients.
Rawnet's approach to partnerships
Rawnet prides themselves on their approach, calling it The 5 Ds. A fast-paced, yet detailed immersion into their client's business allows their team to understand objectives and customer requirements.
Equipped with this knowledge they're able to provide quality, scalable solutions to help meet objectives and ensure our clients are fit for the future.
Creating a long-term, positive impact
They don't do campaigns. They don't simply 'redesign' a website with a new set of features.

Everything they do moves their client one step closer to being an industry leader.

They only take on projects that can create a positive, measurable, everlasting change.
Contact Rawnet
Partner Page: www.concrete5.org/rawnet
Website: www.rawnet.com
Learn More
You need a CMS that saves you time.
Schedule a demo and tell us a bit about your project and we'll help you decide if Concrete CMS should be on your shortlist.