Concrete5 is honored to be recognized as a best-in-class category leader by SourceForge, the world's largest software reviews and comparison engine.
3/8/21– Concrete5, an open source CMS, today announced that it has been awarded a Winter 2021 Leader Award by SourceForge, the world's largest software review and comparison website. This award recognizes companies and products with outstanding user reviews that are in the top five percentile of highly reviewed products on SourceForge.
"We're so pleased to name the outstanding SourceForge Winter 2021 Leaders," said SourceForge President, Logan Abbott. "It's my pleasure to recognize concrete5 as a Category Leader in the Content Management Systems category. Not only did concrete5 score remarkably highly in overall ratings, concrete5 was also the most reviewed content management system of the Winter quarter. In addition, users also rated concrete5 as the easiest to use CMS. Congratulations to concrete5 for setting the standard in the Content Management System category."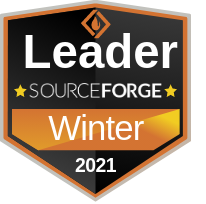 To win the Winter 2021 Leader award, each winner had to receive enough high-rated user reviews to place the winning product in the top 5% of favorably reviewed products on SourceForge, which demonstrates the utmost quality that Concrete5 delivers to customers.
Franz Maruna, co-founder at concrete5 says "we're excited to accept the SourceForge Winter 2021 Leader Award. When we first went open source in 2008, being named Project of the Month on SourceForge was a huge win for us, and it's great to be recognized over a decade later. We work hard to provide a best-in-class product, and build a web for the greatest good. We're honored to be valued by our customers and to be recognized by SourceForge"
About PortlandLabs/concrete5
PortlandLabs is an independently held company that manages the open source content management system Concrete CMS/concrete5. They focus on delivering enterprise grade support for teams running mission critical websites.
About SourceForge
SourceForge.net is the world's largest software comparison directory, serving over 30 million users every month and featuring user reviews, product comparisons, software guides, and more. SourceForge's mission is to help businesses find the best software to fit their needs and their budget. There are a variety of software tools available to businesses, and there are tools in almost every category and niche, each serving a slightly different purpose.