Safrantours - Experts in freedom travel for 25 years is a travel agency located in Mirabel-et-Blacons in the Drôme region of the Auvergne-Rhône-Alpes region.
6tematik wanted to review its complete graphic charter and then design an easy-to-understand multilingual e-commerce site, so that users could easily find and book stays in France and Europe.
Why did you choose concrete for this project?
Concrete CMS manages multilingual sites very well, both in terms of managing the tree structure and multilingual equivalences and in terms of translating interface elements, without external tools.

Safran Tour's need to set up a private section allowing customers to book journeys online, to have a follow-up of their orders, and to post notices on past trips. Concrete makes it possible to set up private sections very quickly and to add additional functionalities.

It was necessary to set up a gateway between the site and the customer's ERP allowing the exchange of price flows, reservations, etc. We knew that Concrete would allow us to develop these very specific functionalities while keeping a great ease of administration.
What was made easier by using Concrete during development?
We were able to easily create specific and customizable pages such as the reservation page, the tour sheets, or the favorites page thanks to Concrete's single pages which allowed us to make custom scripts.

The native functions of Concrete and the overriding simplicity made the development easy. We were able to develop a complex online booking process interfaced with the client's ERP, by staying focused on interfacing. The rest was pretty effortless and we saved time on the database connection and form creation.
We implemented testimonials and reviews management system in the website's admin, thanks to the possibility to create menu items in Concrete's dashboard and to associate custom functionalities to them.
The ability to natively create member sections allowed us to quickly set up a customer section with restricted access for the tour booking part.
I find Concrete quite intuitive and easy to access, especially for all the changes that can be made directly on the front end. It makes the layout especially easy.
A Logistical and Practical Tree Structure

When looking for a trip, it must be simple and fast. With the Safrantours e-commerce site, you get straight to the heart of the matter with a menu with several entries:
"By destination ": interactive map in France and Europe
"By activities ": cycling, hiking, well-being, trailer ...
"By major routes ": ViaRhôna, the Loire by bike ...
"By themes ": coast, canals, mountain countryside…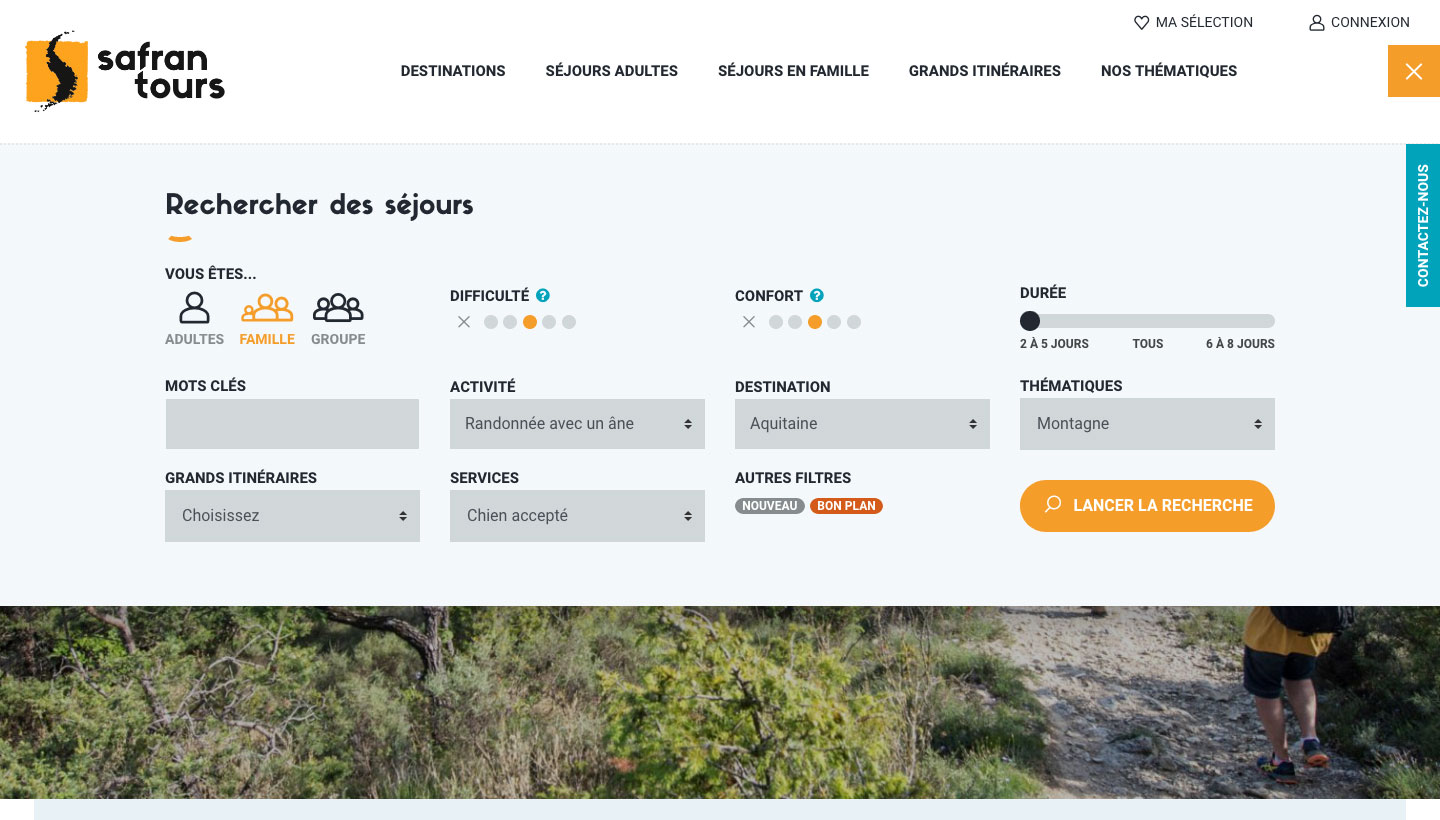 An intuitive reservation system despite its complexity and a large number of choices available. Booking a stay is ergonomic and fluid.
Guided through several stages, you will register the different participants, assign them rooms and beds, possibly rent the bikes, and select options for your stay, before choosing the method by which you will receive the complete travel file, summarizing all these data as well as the stages of the stay.
A Passionate Blog
In addition to the e-commerce part, they have also set up a blog through which Safrantours can speak directly and provide expert advice to travelers, in addition to publishing the articles that make up its news.
About 6tematik
6tematik supports you in the digitalization of your business. They are eCommerce experts and create tailor-made websites and web platforms.
Their graphic approach is centered around the user experience. For specific needs, they carry out the advanced web and mobile developments and connect your ERP / CRM / PIM and other web platforms with agility. We also ensure your 360 ° digital communication to develop your activity.

Contact Us
Website: www.6tematik.fr
Learn More
You need a CMS that saves you time.
Schedule a demo and tell us a bit about your project and we'll help you decide if Concrete CMS should be on your shortlist.