Situation
Bottomline Technologies, a financial software company, had a sophisticated offering spanning across multiple industries. However, their messaging had become too complicated and lacked a clear connection to their customers' challenges and objectives. They wanted an agency to guide, challenge and support them on their journey to become a disruptive technology leader.
Impact
Bottomline Technologies was struggling to position themselves as more than just a financial software company and needed to align their wide portfolio of products with relevant customer segments to improve website conversions. They also needed to restructure their website architecture to streamline user journeys and make it easier for prospects to navigate their offerings.
Rawnet, an agency specializing in digital strategy and growth marketing, embedded their strategy team into Bottomline Technologies' business to gain a deep understanding of their core offering and challenges. They identified that prospects were faced with an overwhelming offering of 31 solutions, putting too much onus on them to navigate and work out for themselves. To simplify the user journeys, Rawnet helped Bottomline Technologies to refine their offering and keep it focused on several core areas only. They designed simplified user journeys for the new website that allowed users to browse top-level solutions and contact Bottomline at every point with a proposition that is easy to understand.
Rawnet worked with the core team behind Concrete CMS to deliver a hosting environment and SLA that met Bottomline's uptime requirements. Having access to the core team helped with performance and security concerns, while also reducing the challenges of an agency and client working together across very different time zones.
Result
Bottomline Technologies saw significant improvements following the launch of their new digital experience and improved customer messaging. They received a record number of qualified leads the month following the launch and experienced an increase in web conversions and traffic to the site. The Rawnet team was praised for their responsiveness and agile nature in the project management and development process.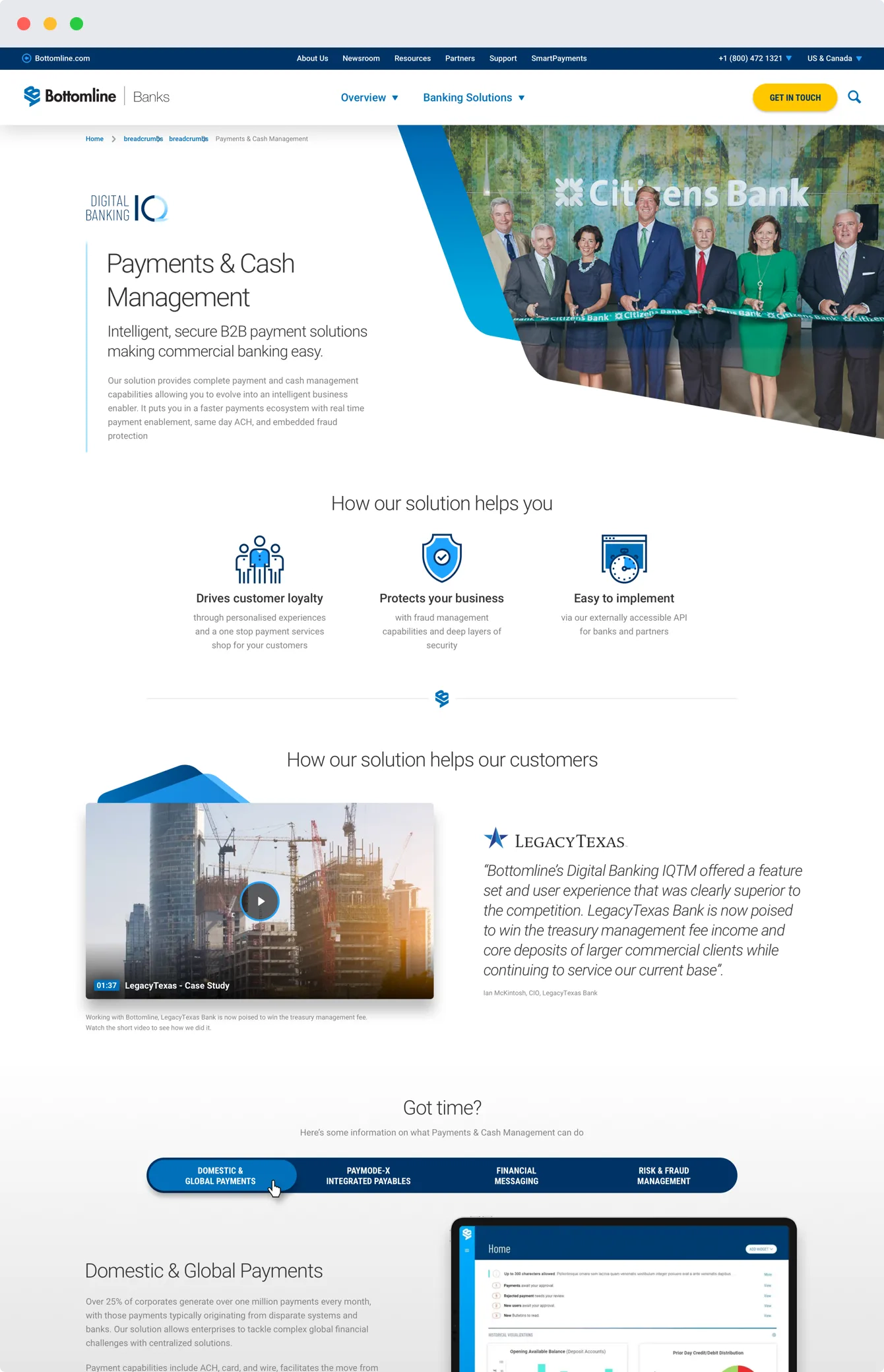 ---
Record
Number of qualified leads month following the launch
125%
Increase in web conversions compared to the previous year
---