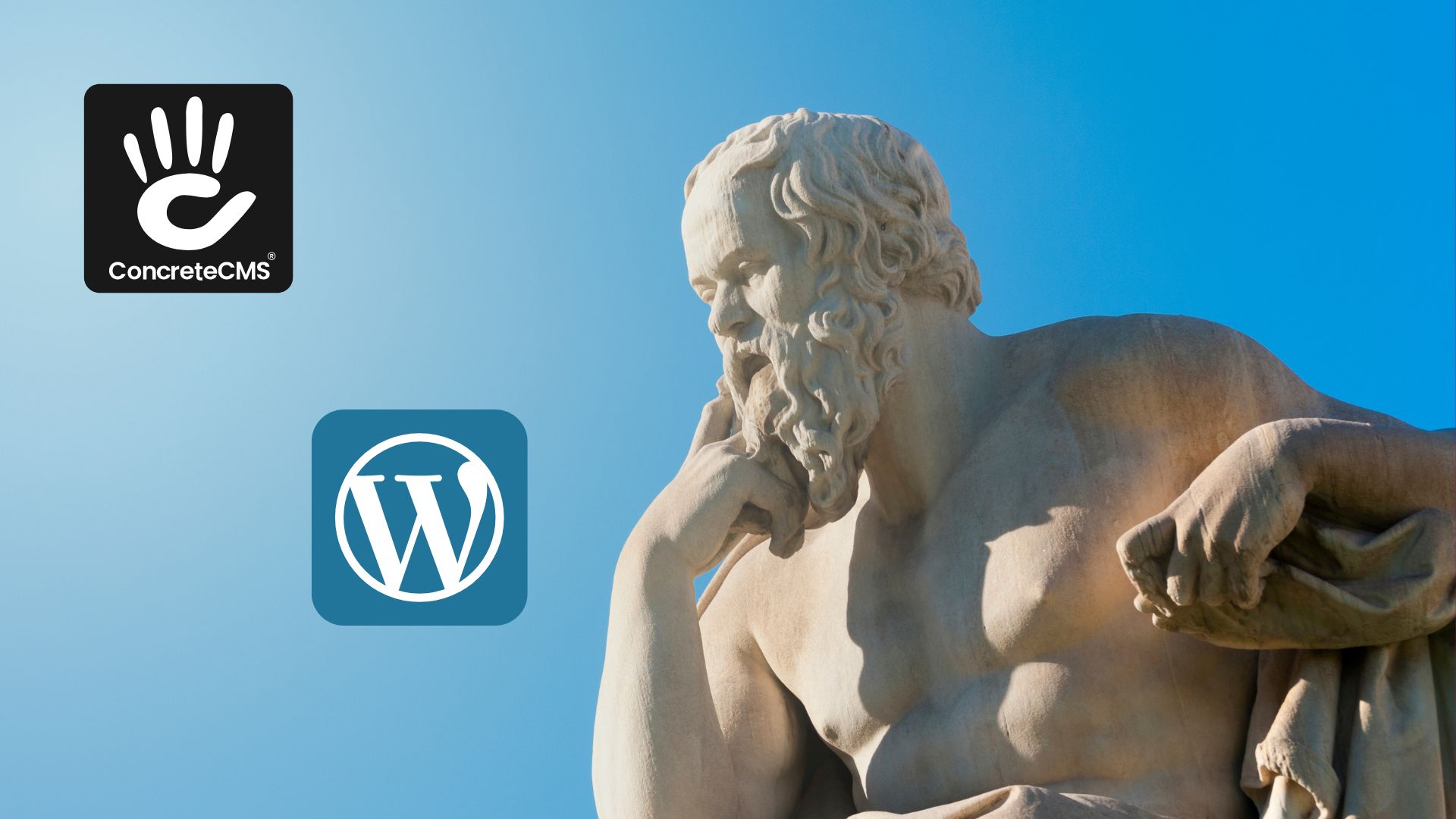 Why is WordPress's market share shrinking, and what does that mean for Concrete CMS?
While still clearly a goliath with 40%+ of sites that use a CMS using WordPress, it is a downward trend worth thinking about.
Various ideas offered in the article are all interesting.
Community
WordPress has a brilliant community-driven marketing strategy built around real-life connections. When WordPress first came out, it was still complicated for a small business or individual to find an affordable way to get online. As an organization, WordPress supported local physical get-togethers at coffee shops and bars where anyone who was building websites or needed websites could get together and learn. It was a very early example of content marketing at its best. These didn't feel like corporate shilling events; They felt like collaborative learning sessions, and "Oh yeah, WordPress is a great option for you" would slide in towards the end of almost every conversation. These local events happened in every city around the world regularly, but they culminated in WordCamp, which was the same idea but mega-sized. Having this real-world community of bright people solving real problems and meeting face to face is extremely powerful, so not having that for the last few years of the pandemic has to be hard. While Automattic (the company behind WordPress) has always been a remote work first company, losing the chance to physically connect with your community through those real-world events makes it easy to slip into an echo chamber of your thoughts.
Performance is a genuine concern
Websites used to be nice little text files with a few images linked. Years of HTML being back-ended into a complete application development environment has given us websites that are slow and bloated. Parody sites like this load so quickly that it makes those of us who have been doing this since the 90's question if what we've done is so helpful after all. With Google making a point of Core Web Vitals and penalizing sites that are slow. All of the sudden, microseconds count when you're building a public-facing marketing website. When comparing WordPress to SaaS offerings like Wix, SquareSpace, or Duda, it's hard to imagine a scenario where they will ever be as fast or faster. These SaaS players have so much more control over how their stack is built and content is delivered; there's no way you're going to offer something faster as an open-source player. With enough caching and tuning, you can make a WordPress site performant in the right environment, but for most small sites with $20/month to spend - why bother?
Plugin compatibility
Plugins and complexity get mentioned in the article, and this one certainly resonates. Open Source means something slightly different to every company that embraces it, and the WordPress ethos feels like 'the more plugins, the merrier.' It's easy to see the value that a competitive marketplace with thousands of options brings. There's also a cost involved there. A default WordPress site doesn't even let you build a contact form without installing a plugin. It's a lot to learn about all of that and know which plugins work well with each other and which don't.
At some point, it's fair for a prospective site owner to ask 'I just wanted a website, do I need to know what all of this is?' WordPress is losing the advantage they had back in the day of just being an easy way for anyone to get started on the web, and now you're left having to hire a developer to help you actually pick the right plugins and get them all properly installed and behaving with one another. That just gets you to a spot where you now have a dozen or more different pieces of software running your website and every one of them has to be updated for security and performance improvements continually. All of this in a world where Squarespace offers you a very attractive website at a very competitive price point where all that is just done for you.
The editing experience
"Full site editing" (FSE) gets blamed in the article as well. The new in-context editing approach that WordPress has strapped onto their traditional blogging platform is not beloved by their community yet. It's got a reputation for being a bit buggy and beta-at-best, and it doesn't quite deliver on the promise that the other WYSIWYG first builders like Weebly, Wix, Squarespace do.
This is particularly interesting for us at Concrete CMS as we pioneered in-context editing with our very first version back in 2003, and we've been arguing it was the right way to think of editor experience the whole time. When I used to give Concrete CMS demos a few years ago all I had to do was pop a page into edit mode and you could sense the gasp of enthusiasm from the prospect. These days a good WYSIWYG editing experience is (as Gartner put it to me recently) "table stakes." In fact, Gartner has come to the conclusion that web content management (WCM) is covered by so many vendors that all have feature parity that they don't even bother with a Magic Quadrant market evaluation for the space anymore. Basic web content management has become a commodity.
I feel for WordPress on this one. It sucks to know you've got a missing piece of the puzzle in your application, and it's pretty hard to add it late in the game. I know when you go to set up a new site at WordPress.com today, it dumps you into a WYSIWYG experience that feels pretty much exactly like Concrete CMS, and it worked well enough for me for some casual poking around. I also know that people tend to not love change. The WordPress team is putting a lot of work into an editing experience that is at odds with how they used to do things, is likely never going to be fundamentally better than what everyone else is offering in the space, and doesn't really do anything to eliminate the underlying complexity of the platform. That said, they have to do it or they'll be left feeling like a printing press in a world of word processors.
Focus relentlessly
The underlying issue that jumps out to me in reading all the different views in the source article is deeper; Trying to be everything to everyone. This strategy is a notoriously difficult one to pull off in business. Current marketing best practices tell you to chase focus above all else. You're far better off focusing on a very clear target market where you can tailor your messaging and product to really deliver value. There will always be a halo effect where ancillary-related markets discover they can use your product too, but just trying to sell a screwdriver that anyone can use to build anything is a difficult strategy.
If WordPress is a web builder that someone should use for a 6 page marketing site for a coffee shop, why not go with Squarespace, Weebly, or Wix? All of them have templates that require no technical understanding, no plugins, no updates, and even come with other marketing and operations tools you're likely to need as a small business.
If WordPress is a development platform that a web design firm is going to use to build a complicated application, why not use any number of frameworks and platforms that have a more elegant architecture for extending the code base? WordPress can be a difficult code base to work with and instead of using their 40% market share of CMSs to help drive PHP standards forward, they've really taken a back seat on efforts to move the language to cleaner code practices. A great developer looking to build a bespoke application is more likely to be interested in working with Laravel than they would WordPress. Drupal is also written in PHP and they're not afraid of making backward compatible breaking changes in major versions to dramatically improve the platform. Concrete CMS is a great option to explore as well as we've had a core team member on PHP-FIG for years. We have prided ourselves on embracing an object-oriented approach from day one, moving to namespacing when it became the best practice, and so on.
In a market where all the features are table stakes, finding a way to differentiate is not easy. We've been working hard on this same challenge for Concrete in the last year, and while we've got a ways to go, we're already seeing much better results for the clarity we've found:
Concrete CMS is a great choice for Intranets and Extranets. I personally believe this is the promised land for Concrete as we've seen more and more clients using us in this space on their own. There's a very powerful permissions model built right into the core of Concrete, along with a lot of blocks you'll need like Calendar, Document Library and a members directory. While we don't have an "intranet in a box" starting point in the core today, you shouldn't be shocked to see that coming soon. In a post-pandemic world where internal communications have become an important corporate function instead of an afterthought, creating a destination website for your employees or dealers with Concrete CMS makes a tremendous amount of sense. As an open-source web content management system, we provide just about everything you need for that purpose without having to understand a complex ecosystem of plugins that will make updating difficult. As an organization, we're already safely hosting and managing sites like this for major governments and Fortune 500 businesses.
Concrete CMS is a great choice when you're building a complicated, larger site. We're never going to beat the well-funded SaaS web builders, or WordPress, at being a web builder for the masses. If you want to use Concrete for that, please do. We've got lots of features built-in that are super easy to use for the right person. That said, we're never going to have a call center full of people who can fix and optimize your CSS while on live-chat, so for $20/mo you're probably going to have an easier time building that 6 page website on Squarespace. Conversely, if you're building a site with thousands of pages, multiple languages, multiple 'websites' within a single install, and some interactive functionality - we're a much better choice than any of the web builders (or WordPress.)

Concrete CMS is a great choice when you've got a team of content contributors who are busy. We've always taken the view that you shouldn't have to be a programmer or HTML guru to post to the website with Concrete, and that ease of use shows. We're running about 100 websites out of a single Concrete install that has around 1,000 editors for the U.S. Army. New people come and go all the time. Training amounts to watching 15 minutes of videos and they're off. Concrete sites feel easy to manage the content on, and if you mess up, it's easy to roll most changes back.
The future of WordPress isn't something we need to worry about. They're still huge, and no one is going to forget about the Kleenex of the web anyway. That said, just being open source isn't really valuable for most customers, and if WordPress keeps trying to be everything to everyone, they're going to feel more and more pressure from all sides over time. If you've never tried Concrete CMS before, you might want to check it out. If you'd like an easy editing experience for your content managers, want an open source platform, and are interested in a development approach that is a bit more deliberate, you'll be pleasantly surprised at what you've been missing all this time.
Interested in saving time and having a secure website? Learn what Concrete CMS can do for you.